Tamar Kelly
Tamar was first taught "Down Dog" at the age of three, by her father who lived and worked in India prior to her birth.

She became serious about Iyengar yoga many years later after sustaining an injury while performing theatre in 1995.  While the attraction to this form of yoga was firstly a physical one, over time she was struck by the depth, beauty, discipline and vividness of the B.K.S. Iyengar's method - all attractive qualities to an artist.

After a vigorous apprenticeship with senior Iyengar instructor, Glenn Ceresoli, Tamar left behind a twenty-year career as an actress and dancer to dedicate herself to teaching. She went on to run two large yoga studios in Sydney, Australia, before moving to New York City in 2005.  There she was blessed to continue her training with Mary Dunn, James Murphy, Brooke Myers and Patricia Walden.

In 2007, Tamar began teaching at the prestigious Iyengar Yoga Institute in Manhattan, NY and in 2009 was awarded a place on the faculty. The same year she was invited to perform at the Yoga Journal conference in New York with the Iyengar Yoga Trio. Tamar also taught yoga at Columbia University both to the staff and the students enrolled in the Physical Education Program. In addition, she taught private classes to many celebrity students including Mira Niar, Andre Gregory and Martha Stewart.

In 2011 she moved to Warsaw to teach with Henryk Liskiewicz. There they ran a successful Iyengar Yoga school, iJOGA Poland, working with students of all levels of ability, from those needing special programs and attention in the Medical classes, to Teacher Training Programs and even Continuing Education Programs for already certified teachers.

Tamar is passionate about the Iyengar Yoga method; its depth, both physical and spiritual. She continues to study and practice the art of Iyengar Yoga under the tutelage of senior teachers, Manouso Manos, Pixie Lillas, Carrie Owerko and Stephanie Quirk. She also visits India regularly to study with the Iyengar family, to whom she is dedicated.

She teaches classes and workshops internationally.

Tamar is certified at the Junior Intermediate III level.
Henryk Liskiewicz
Henryk began practicing Iyengar Yoga in 1984 and has taught since 1993. He holds a Senior Intermediate 3 Level Certificate.
---
Robyn Adler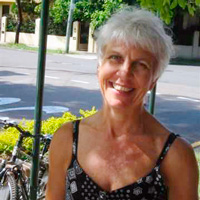 Robyn started practicing yoga in New Zealand in 1988 after being introduced to Iyengar Yoga by a fellow South African she had met while sailing the South Pacific. She was immediately hooked as it was a way into my body in a non-competitive and yet dynamic form of body movement. Robyn remembers, "As I created space in my body, working within my own capacity, my strength and flexibility began to increase and my state of mind became more balanced. I began to understand the breadth of the practice that is Yoga."
Robyn came to Sydney in 1992 and started teacher training apprenticeship with Peter Thomson. After over two decades of practice and teaching she is  now a Certified Junior Intermediate Level lll Iyengar Yoga Teacher.

Robyn travels to Pune, India, regularly to study with the Iyengar Family and has attended all the conventions in Australia when B.K.S. Iyengar or, his daughter, Geetaji have visited to teach.
In 2015 Robyn completed a three year Course with Stephanie Quirk in Therapeutic Yoga that informs both her remedial work and general classes.
As well as teaching general classes Robyn has been teaching yoga to people with MS for the last three years. She also teaches private classes for people with chronic conditions who are looking for remedial attention and she finds this work reinforces the foundational principles of Iyengar Yoga and affirms that this practice is available to everyone regardless of ability or age.  
Finally, Robyn is also a practising Shiatsu Therapist and Counsellor. She states, " I find these modalities complementary to my yoga teaching and practice as the body and mind are interrelated and influence and affect each other. "