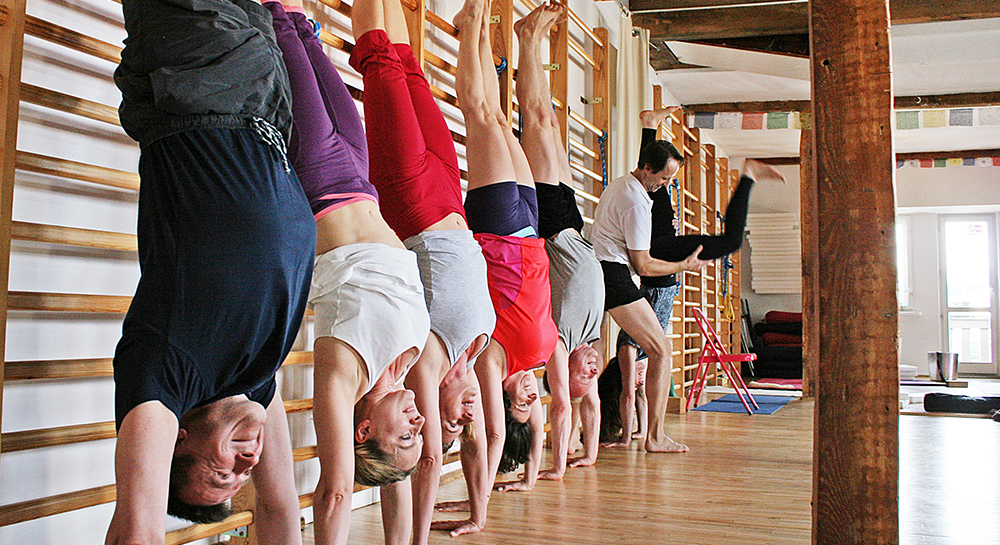 IYENGAR YOGA SPACE 3b Victoria Street Paddington  

Teacher Training with Henryk Liskiewicz
Iyengar Yoga Teacher Training is vigorous in its application, in order to uphold its International standard of excellence.
The BKS Iyengar Yoga Association of Australia (BKSIYAA) requires that a student wishing to train as a teacher must have been practicing Iyengar yoga regularly for a minimum of three (3) years or have attended a minimum of 300 hours of classes and have an established personal practice before undertaking training with a teacher accredited by the BKSIYAA to train teachers.
The Teacher Training itself is 470 hours, spread over a two year period, after which time you are assessed by independent senior teachers from the Iyengar Yoga Association of Australia in order to be granted full certification.
The Teacher Trainers have been vigorously trained and must be certified at the Senior Intermediate 1 level or above, which is the sixth level. Each level requires an average of 3 years study and preparation, so it translates that the training teachers have been teaching in the Iyengar Yoga tradition for well over 20 years, upholding the standard of excellence. The length of the program, being two full years, insures that the teacher can fully integrate what they have learnt and mature in their own practice. Personal practice is deepened and teaching skills, including physical adjustments are honed. The program features in-depth classes on the practice and theory of the asanas, as well as courses in anatomy and yoga philosophy.
Applications for teacher training in 2017 are being taken. Prospective students should attend classes with Henryk before submitting an application.

Personal Development with Henryk Liskiewicz
"Teaching is a difficult art, but it is the best service you can do for humanity"
B.K.S. IYENGAR
Course Content Overview
Continuing Education, often referred to as Personal Development, is primarily a program for Iyengar Yoga Teachers who wish to further their studies and prepare for higher levels of certification, most specifically the Junior Intermediate levels.
Students will work on developing their teaching skills, work with basic health problems and the use of props will be further explored. The program features in-depth classes on the practice of the asanas, verbal instruction and effective adjustments. Participation in this course gives the possibility for:
improved asana and pranayama practice
development of teaching skills, observation and correction
practice of adjustments and modifications
---
Dates For 2017
Sundays February 2, March 26, April 30, May 21, June 18, August 20, October 15 and November 19.
Single Workshop
$125
Eight Sessions
$800
To register for these sessions please contact Henryk via email

This email address is being protected from spambots. You need JavaScript enabled to view it.
This program is also designed for, and open to, serious Iyengar Yoga practitioners (3 yrs) who want to deepen their practice, or explore teacher-training level studies, without enrolling in a teacher-training program. These candidates are invited to attend these sessions so as to deepen their practice and establish a firm and regular home practice, a pre-requisite of the formal teacher-training program.
Registration in the Sunday Program with Stephanie Quirk (listed on the guest teachers page) is highly recommended.