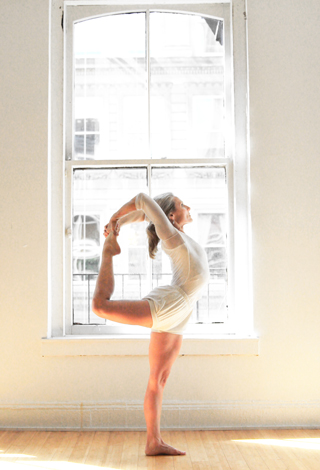 Carrie Owerko
March 9 - March 11, 2018
Carrie Owerko has been teaching yoga and exploring the relationship between body, breath and mind for several years. She holds a Senior Intermediate Iyengar teaching credential and continues her studies with the Iyengar family by traveling to India on a regular basis, as well as by continuous and in-depth studies with her teacher, Patricia Walden.
Over the years she has performed in and co-choreographed many yoga demonstrations, including Live: Light on Life, performed at NYC's City Center during BKS Iyengar's Light on Life US National Book Tour in 2005.Before studying yoga, Carrie worked as a Movement Analyst after having completed her studies at The Laban Institute in NYC. She studied theatre and dance in college and has spent years exploring human movement, meaning and communication.
Curiosity, openness, and affection are of the utmost importance in her approach to Iyengar Yoga, as is the integration of science, yoga philosophy, and the poetic imagination in the yoga practice. Most importantly, she loves to explore the relationship of discipline and playfulness and is a firm believer in the power of controlled folly. www.carrieowerko.com.
How can we get out of our own way, and clear the way to new, as yet undiscovered possibilities? We will plumb the art of possibility by exploring a skillful use of play as an approach to problem solving and discovery. There are so many ways to make what seems impossible possible by thinking outside of the box, being creative, and cultivating a more fluid growth oriented mindset rather than a fixed and limiting mindset. This means we will have to give ourselves both space and permission to make mistakes, fail even, and by doing so learn the art of "how can I, or how might we?" as opposed to "can I, or can't I?" We will also look at what we mean by the word "alignment" and how best to live this concept. We will utilize some principles of basic biomechanics and movement analysis to help us live this question.
Workshops
Friday: 6:30 - 8:30pm
Saturday: 9 - 12 and 3 - 5pm
Sunday: 9 - 12 and 2-4pm
Venue
Balmain Town Hall, 370 Darling Street, Balmain
Workshop Fee
$350

Booking are essential - Please email This email address is being protected from spambots. You need JavaScript enabled to view it. or download the MINDBODY APP and search Iyoga Project to register online.
---
MANOUSO MANOS
IYENGAR YOGA WORKSHOP
Sydney 13 - 15 April 2018

"For me, it's no doubt, that one of my oldest students Manouso, who has devoted, I think all his life the moment he accepted yoga as a subject - he honestly, sincerely, and totally, gave his life. Not only to learn, but to serve the humanity (society and humanity), with zeal, in such a way, that he treated all his friends and students, who underwent training with him, as if their bodies are his own body and his own mind." 
Such a noble person, who has one mind - to help others. So he is a rare product, no doubt! And, I am proud of his work. Although I don't praise in public, but in my heart of hearts, I have high regard for him, as I consider him as one of the best students of many best students of all."
                                                                                                   - Sri B.K.S. IYENGAR

It is our great pleasure to host Manouso in Sydney, 2018. Those who have been fortunate to study with Manouso can attest to how much may be learnt from this incredible teacher and truly generous and intelligent man.
Manouso Manos is one of the most capable and experienced of the Senior Iyengar Yoga Teachers. He holds one of only two Advanced Senior certificates granted worldwide by B.K.S. Iyengar.
He began his studies with Sri B.K.S. Iyengar in 1976. After numerous trips to Pune, India and over 3 decades of personal practice, his understanding of and insights into Iyengar yoga are conveyed with authenticity and precision.
Methodical in his teaching, Manouso lays a solid foundation and progressively refines each of the asanas. His sense of humour, sensitivity and generosity shine through as his dynamic and challenging teaching style moves his students beyond their perceived physical and psychological limits.

Venue: 
Hugh Latimer Centre, 512 New South Head Rd, Double Bay, Sydney.
Enter via Sherbrook Avenue, off William Street. Unrestricted parking is available, next to the building at the time of workshop.

Times:  
Friday: 6:30 - 8:30 pm, 
Saturday & Sunday: 10am – 3pm with a 30-minute break.

Fee:  $350,-

Registration at:   This email address is being protected from spambots. You need JavaScript enabled to view it. , 
Moblie: 0499 088 990

Please bring the following yoga props: mat , 2 wooden blocks, 2 straps, 3 yoga blankets or more if you need it for Sarvangasana.

This workshop is suitable for teachers, teachers in training and yoga practitioners level 2 and upward and have personal practice that includes inversions, without major injuries.
 
With AUM and Namaste Henryk Liskiewicz
---
Stephanie Quirk Study Season
ABHYASA and VAIRAGYA
A short course in practice and restraint - or the way of Yoga.
What is to be practiced and what restrained if we are to reach integration? This series carried out over 5 sessions will lead from our established base of understanding through asana practice and how it relates to advice given by sages.
One of the restraints is that of the space or moment that exists between the arising and subsiding forms of consciousness. But how is that done? We have learnt the method of asana and pranayama (motion and action). Through that practice of asana and pranayama, we will delve into the different layers of; the outer body, the senses of perception, the body of energy, the mind and the intelligence. We will study the interactions of our body, breath and mind through working mindfully. This interaction is not only a dynamic form of mindfulness is also develops the sensitivity and awareness of the practitioner..
Workshops 2017
The dates 2017
1. 26th Feb
2. 9th April
3. 7th May
4. 4th June
5. 2nd July

Morning Sessions (11-1pm)
1. The organs of action (anga's).
2. The senses of perception (indriyas)
3. Disposition and organisation of the whole body - the diaphragm (kaya vyuha)
4. The mind - the vehicle of connection (enabler and traitor)
5. The Umbrella of Awareness
these morning sessions will be the study and experiential investigation of the wise words imparted to us by the practitioners who have gone before.

Afternoon Sessions (2 - 4pm) Some simple approaches to common obstacles
1. knees
2. shoulders
3. fatigue and vitality
4. Stress and systemic balance
5. Emotional well being
Both the Morning and afternoon sessions will have a practical (on-the-mat) component. There will be texts for reference and adjustments and adaptations to be undertaken.
Single Workshop: $135
Five Sessions: $550
---
---